Subsidiaries and Associates

2 February 2016
MMC Corporation Berhad's Sukuk is the Best Islamic Finance Deal of the Year
MMC Corporation Berhad's inaugural RM1.5 billion Sukuk Murabahah (via Tawarruq arrangement) was crowned as the Best Islamic Finance Deal of the Year in Southeast Asia at the Alpha Southeast Asia Deal & Solutions Awards 2015. The Sukuk, which saw RHB Investment Bank Berhad (RHBIB) as the Sole Principal Adviser, Sole Lead Arranger and Sole Lead Manager was rated AA- by Malaysian Rating Corporation Berhad and was well-received registering a bid to cover ratio of 1.5 times with strong participation from funds and insurance companies.
8 December 2015
JPB emerged as the winner of Human Resources Minister Award
Johor Port Berhad (JPB) won the Human Resources Minister Award under category the of Large Employers for Service Sector at the Human Resources Development (HRD) Award Gala Dinner 2015. The HRD Award is the highest national recognition in the field of Human Resource Development, awarded by the HRDF under the Ministry of Human Resources.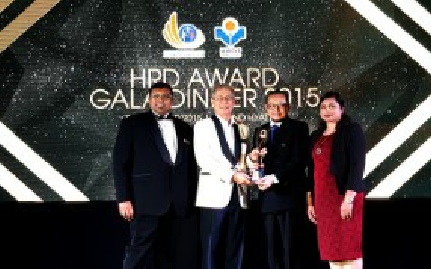 31 October 2015
2014 Best Port Award
Port of Tanjung Pelepas (PTP) was named Malaysia's 2014 Best Port at the World Maritime Day 2015 National Level held at Putra World Trade Centre, Kuala Lumpur. The award recognises PTP for its continuous positive improvements on productivity in container operations and better optimisation of resources in achieving its operational excellence.
10 December 2014
MMCOG won two awards at the MSC Shared Services & Outsourcing (SSO) Night of Excellence Award 2014
MSC Malaysia held its Shared Services & Outsourcing (SSO) Night of Excellence Award 2014 on 10 December 2014. More than dozens of companies' representatives attended as commemorative of their MSC statuses. MMCOG and other known oil & gas players like RNZ were among the invited guests at the event.
05 December 2014
MMC-Gamuda wins International Tunnelling and Underground Space Awards 2014: Technical Innovation of the Year Category
MMC-Gamuda was awarded the International Tunnelling and Underground Space Awards 2014: Technical Innovation of the Year Category for the Variable Density Tunnel Boring Machine (VD TBM) that overcame major MRT tunnelling challenges posed by the karstic limestone formation in Kuala Lumpur.
12 April 2012
Logistics Infrastructure Provider of the Year
MMC Corporation Berhad has been honoured with the 'Logistics Infrastructure Provider of the Year' award at the Frost & Sullivan Malaysia Excellence Awards 2012. This annual award recognises best practices and most outstanding performance by Malaysian companies in various industries. This win comes in recognition of MMC's leadership and innovation within the logistics infrastructure sector in Malaysia.
3 October 2011
SMART emerged as the UN Habitat 2011 Scroll of Honour Winner
SMART received an international Habitat Scroll of Honour Award 2011 in Mexico, for its innovative and unique management of stormwater and traffic congestion.
27 April 2011
Senai International Airport won Best Emerging Airport award
Senai International Airport receives the Best Emerging Airport Asia award at the Asian Freight & Supply Chain Awards 2011 in Singapore.
17 April 2010
Institution of Engineers Malaysia Outstanding Engineering Achievement Award 2010
The Institution of Engineers Malaysia awarded SMART with the "IEM Outstanding Engineering Achievement Award 2010" for the construction and design of the SMART tunnel.
14 January 2009
Contractor of the Year
MMC-Gamuda wins "Contractor of the Year" in Malaysian Construction Industry Excellence Awards (MCIEA) 2008
8 October 2008
British Construction Industry Awards (BCIA) 2008 International Award category
SMART was selected as the winner for the British Construction industry International Award for 2008. The prestigious BCIA Award ceremony, regarded widely as the British Construction Industry's Oscar, was held at the Grosvenor House Hotel in London. Margaret Hodge, Minister of State for Culture, Media and Sport presented the awards. Among those that were shortlisted in the International category were China's Beijing Airport, Amsterdam's Bijlmer Arena Stadium and Japan's Shin-Marunouchi Towers.
27 August 2008
Asia's Best Companies 2008 - FinanceAsia & JP Morgan
MMC Corporation Berhad - Ranked 9th in Best Corporate Governance category
15 August 2008
2007 KPMG Shareholder Value Award
MMC received award by KPMG as the Sectoral winner in the Energy & Natural Resources category
21 June 2008
Association of Construction Engineers, Malaysia (ACEM) Engineering Awards 2008
SMART was awarded the Engineering Award 2008 by ACEM in recognition of its engineering achievement and excellence.
16 December 2007
SMART wins Industry Excellence Award
MMC - Gamuda JV wins the "Innovation Award" and Environmental Award" at the Malaysian Construction Industry Awards 2007 for the SMART project.