Subsidiaries and Associates


Turtle Awareness and Educational Programme
Malakoff Corporation Berhad (Malakoff), a Member of MMC Group has been championing this programme since 2010. The programme, in collaboration with the Fisheries Department, continued the Company's annual 'Kenali Penyu, Sayangi Penyu' turtle awareness and educational programme at Segari Turtle Management Centre (TMC).
Recycling Programme
MMC Group in collaboration with Johor's Department of Environment organised a 'Recycling Programme' in conjunction with Hari Alam Sekitar, Peringkat Negeri Johor.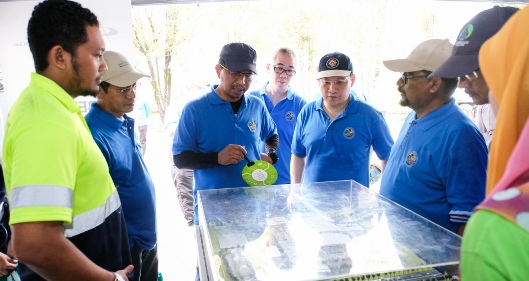 'Friends of Langat' River Programme
MMC Pembetungan Langat Sdn Bhd (MMC PLSB), jointly organised 'Friends of Langat' River Programme with the Ministry of Energy, Green Technology and Water, in conjunction with the Environment Day Celebration.
ENVIRONMENT PRESERVATION
At MMC, we are cognisant that we must grow sustainably and responsibly, balancing business expansion and its impact on the natural environment. Towards realising these goals, we have worked directly with the community and at times, engaged in ongoing research projects undertaken by various agencies. We have reached out and touched the lives of people in the communities that we live and operate through our educational programmes. We believe our actions today will make a meaningful difference in protecting our natural environment for our future generations.
Protect River Terrapins
Gas Malaysia Berhad, a Member of MMC Group is actively collaborates with the Department of Wildlife and National Parks (PERHILITAN) to protect the critically endangered river terrapins, at the River Terrapin Conservation Centre in Bota Kanan, Perak.